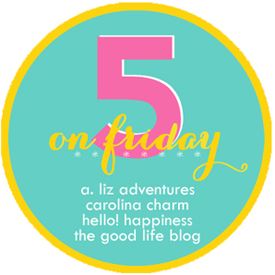 I am linking for my first ever 5 on Friday post! Thanksgiving is just around the corner and I am busy planning a huge dinner for about 15-20 of Tom's military co-workers
1. Thanksgiving and Lions football go hand and hand for this family!!!
2. This will be my 1st year making a huge dinner on my own. Every year in the past we have always gone home on leave for Thanksgiving. I have tried to stay organized and plan ahead as much as possible. I created a menu, collected recipes, and made a grocery list. I am hoping our 1st Thanksgiving in our own home looks as delicious as this!!
3. Our Menu

4.
I plan to give this Raspberry Wine Spritzer a try!!
Here is the recipe:
Combine Equal parts Barefoot Moscato White Wine(chilled)
and Diet Sprite (chilled)
add frozen red raspberries
5. Thanksgiving is going to be so different not celebrating with your family. I am so thankful we have such awesome friends here with us to celebrate with. One things is for sure, we will certainly be missing our family.